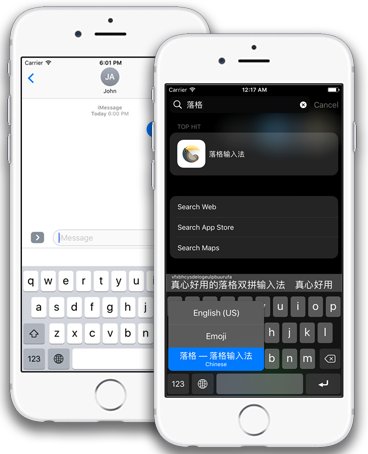 Probably by far one of the iOS platform easy to use input method。
On the iOS platform:
It may be the first to support Larry shaped auxiliary of Chinese input method;
It may be introduced to support a first custom code table Chinese input method;
It may be the first to do without having to flip on VoiceOver retrieve all candidates of Chinese input method;
It supports any input vocabulary auxiliary program code;
And even supports importing Wubi code table to compatible Zheng code!
hard to imagine,The birth of a new input method,On the creation of so many first。
More importent thing is that Loginput totally No needGet "full access"!
---
---
Than you value your privacy and security。
No authorization required "full access" permission to use the full functionality pocketed input method。Safely use pocketed input methodNothing,itwill notSecretly record your input,will notAnalyze your usage habits, morewill notUpload your private data -never。
As a user of theprivacywithSafetyPay the first place input method,for security and privacy。
---
Looking for the user base of the input method? QQ Group:16788008 Telegram group:Click me
---
" "
"Although I'm not Loginput user,But I was impressed by the enthusiasm of developers,Inputmethod field for a long time not so passionate developers with ...... "
by QIM input method of Glider
"On iOS wanton enjoy the pleasure brought by Loginput。"
by @Arronnrock
"Off the grid input method is the first I could not help but always wanted to play more than a few words of input methods - love。"
Ten Steps to a person by milk
"Since Larry learned,Put all iOS input method on the platform to try again,Eventually they fall in love with the grid。It is more like an enhanced version of the system input method,But more simple connotation,Minimal but not simplify。"
by Jerry W
"This input method easy to use,Better looking。"
by xkwei
"It is drought every nectar。"
by brown fox tail
"Plus I also bought forty!"
by Effily
"That's been looking for input - pocketed met all my requirements for input method,Who pocketed thanks to the design and development of,Pocketed the emergence of the power of the era like the Nokia iPhone turned out。"
by icoouu
"Finally there is also a decent Larry input method on iOS。"
by Aladdin ~
"Visually impaired addition of a useful input。"
by wenhaili
"This is the best support for VoiceOver Larry input method! I would like to thank the developers attention to the visually impaired community!"
by Aladdin ~
"Finally there is also a decent Larry input method on iOS。"
by blind masseurs
"The application is very conscience。"
by Larry aihcvel
"Off the grid input method is my 2016 In the used succulent application。"
by Eric.S
"Hard to imagine an independent author actually engage them than Baidu and Sogou this team so much good,If there is a reasonable explanation may be that the passion of it。"
by Sariel
"Larry user gospel iOS platform!"
by YHule
"God really is as easy to use the app,Author's feelings quite touched me。"
by ye4241
"Finally a third party can also be improved through the use of five-stroke input method on ios,Prior has been through the very means to achieve,Thanks to software developers with the platform,If you are using a custom input method,You can try,It is indeed a good choice。"
by joyselect
"Powerful software,The key is to restrain authority,China-made software to do conscience。"
by white sand desert
"well,Really is the best input method。"
by waykuo77
"In the past with Baidu and Sogou input method,Dual-shaped can not really helpless,Finally found pocketed input method,The only four yards directly on the screen to force too! Certainly recommend it to more people! I hope the same can be updated。But I hope pocketed go on long-term sustainable development,Even if it has become subscription-based support will continue。Too afraid to enter such a good method suddenly disappear,Too afraid。"
by merry laugh
"I could see the great love of。"
611 injured by the masses
"Very good input method - as users switch to iOS, Android,Most are not used to is not Google Pinyin can be used。Thanks to excellent off the grid again。"
by realmn
"Thank you for your attention to VoiceOver users use。"
to the 张铮
"5 stars"
by waykuo77
"May be the most fun ios input method。"
by mox_lin
"Software is particularly good,highly recommended! "
by 盡看榮華
"Very good input method,I will always support。"
by looking at the lyrics teaser
"Thank pocketed input method,Finally found the perfect mount clean binary pen input method ~ "
by o o despair sashimi
"Protecting Privacy Herald - hope to continue to do so,One of the most fundamental principle of doing things is not evil,You let me see hope! "
by Normalhh
"Because pocketed input method,I would like to play some more words。- Very easy to use input method,Unfortunately, there are not friends with Larry,I'll have here to Larry users do not know is strongly recommended! "
by the sun bed v
"This is the most serious I've seen developers reply to comment。"
by whim to take a name
"Quality did not have to say,Yen good good living。Fortunately, what color? Relying on automatic adaptation of light and shade are two other theme keyboard that according to the background color,Senior grandiose than those on the keyboard of the skin,Natural beauty carving,This part duty never upstage。Functionally,Various details everywhere ingenuity,Custom-point plan,26Keys enough for you to customize various symbols of the digital,And even draw up the position of the cursor can be customized,Maximize adapt to each person's individual needs and habits of small。There stopwatch that people Brief Encounter artifact,Ignite the passion you white input method,Senior codeword necessary posture。Larry likes to study but do not have the pursuit of people can start off the grid,Because there is such a thing stopwatch,The possibilities are limitless,The maximum input to meet your personal preferences,Comfortably? I thought of that word always the first choice? After a word automatically steps in front of the screen on top of the word determined by the space omitted? No problem。Finally, the developers have to say is really too enthusiastic,Reply timely sale,Patiently explained,Not perfunctory,Thoughtful,Students developers can experience this pragmatic idealism is where all the delicious apple。"
Why to cut by function
"Larry input method can be found in all the App Store,Off the grid is the best that a comprehensive。Than it"Primeval"It functions less,It is not as feature-rich than it"Primeval"。This is a tricky argument,But in terms of function,There are also a few rivals。 There are many unique advantages native input method,For example, in conjunction with the system。First exposure to native type input method is Larry SPi,Unfortunately, it had stopped more。As the oldest (dating back to a)"Without having full access"Input method,It's almost useless App,Are placed into the setup menu button input。Although very original but because of the loss of convenience functions,And I regret that as a charging input method too long it stops more。 Wi is my choice later,The final switch to the touch treasure。These third-party input method Sogou Baidu than two people,Anyhow, in"clean"The place is not much to worries。To obtain full access to the outside in addition to possible privacy concerns,At least there is a key input sound like native characteristics。iOS platform,Input To get native-like experience can only require full access,很无 Kana what。 Off the grid can be said to be a master of。Full access request is not input in,Only pocketed achieve the key tone。And some native input method,Press switch input method language and the precise、The keyboard cursor or the like to adjust the weight function,Off the grid are realized。Class native input method,Only those truly off the grid,More premature stop input method apparently missed these new features。As a class native input,Off the grid has achieved many breakthrough features,For example, the auxiliary code,Delete candidate words, etc.。Although the trade-offs in functionality,However iOS ShuangPin input method,Off the grid is no doubt that the best use of a。 Finally do not have to worry to select the input method,Larry input on iOS,There is enough off the grid。 FM word that does not support the candidate of the old version until now,We admire the efforts of developers,Every time updates are full to the brim of a version update summary,Than those who copy and paste also updated weekly brush sense the presence of high input method does not know where to go。"
by 亚略
"Input method clean,Conscience works. "
by EachannChen
"Issued key tone of the moment,I was shocked. "
by sneezing nuclear
"Input on the best use ios"
by Shinhwa001
"Custom-coded Gospel"
by lvyato
"So far it is the best I've ever Shuangpin input method。"
by Tommy.Ma
"Judging。"
by Huan Huanhuanhuanhuan
"And Larry input method with the IOS very。"
by Sirius radio o
"So far the best mobile input terminal Shuangpin。"
by Kee Chun-sheng
"Easy to use!"
by possession of a large bright
"Intentions input method。"
by sharelj
"Always wanted input method collection,very good, very powerful!"
by Aibanana
"Clean and easy to use input method。"
by The Jeff YU
"stable。"
by 三捣
"An individual developers,Made such a useful input method,I could not help but full of respect for the author。This App is a very large degree of freedom,You can customize a lot of things,There have been a surprise appearance,And very safe,We will not ask for more rights。Before I did not try to sell me think of an input method 40 Considered expensive,Now I do not think so,Really good value for money,Thanks to the efforts made by the developer。"
by Jackpo@china
"An excellent choice for users of iOS under Larry。"
by 1479HH
"I have been in use,We have been improving,Product intentions。"
by - Lulu
"Not native native。We look forward to getting better and better。"
by cms-one
"Good things ah。"
by sea blue steel
"In order to use off the grid,I decided to give a crane。"
by 耕晨
"Developers are very like a conscience。 Input seem particularly native。 A high degree of self-defined。 Unlimited Potential, Especially the keyboard mapping is simply not too friendship! "
by 舒卡勒特
Larry is very good input method "iOS,And built-in keyboard is almost a style,Multilingual input switching convenient and beautiful。And custom space is very large。"
by 1479HH
"Oh, easy to use easy to use easy oh oh oh nice nice nice oh oh oh nice nice nice oh oh。"
Eight auspicious by the legend
"Very easy to use input method,In particular barcode recognition input method Shuangpin,Handy! "
by by eBoy_cn
"In order to use off the grid,The lower part of the phone also with iPhone。"
by yomygg
"perfect"
by Minghao Jun
"Larry current input method "with the best
by a touch of elegance
"IOS will install"
by 硕硕滴麻麻
"perfect!"
by Heidbdidvsk
"Quite admire the author's intentions:Development intentions,Maintenance intentions,Late intentions,Reply ...... all kinds of intentions intentions。"
by YoYo-Meng
"Perfect"
by 水心梭鱼
"It's like my heart input method"
by large woodchuck
"Good application should not be buried。"
by Neun29
"Inseparable from the iOS APP in the cell can be considered a drop。"
by Jiang Yun grinning
"Good use of input method,In particular auxiliary function code。"
by 110308
"I know a little late this input method,But this did not affect my love for this input method:Really handy! Whether native-style layout,It is highly customizable options,Or is this the ultimate typing experience,Must praise of 5 stars! "
by prolonging treasure
"Simple Security。"
by the collapse similar
What you want,All here。
Four yards on a screen,On and on - for top power、Wubi、Daniel users,On a four-yard screen (top screen space code) is almost essential options。Off the grid on-screen input methods provide a variety of solutions for you,Switch freely!
Of vocabulary and auxiliary code - up to three auxiliary code words any word,The presence of secondary independent code system,Larry Any program can be used to pinpoint your secondary code word candidate;
Stroking on the keyboard to move the cursor left and right - need not begin from the q,You do not need to start from the p,Swipe anywhere,"With hands" is the most apt adjective;
Emoji expression input text and color - no need to switch the keyboard to input Emoji expression,Like the color of text? Meet you;
Smart English candidate - the hand on the shot,Frankly,Do you want to enter the English word, right?
Press and quickly adjust the keyboard height - in fact, long press also opens barcode reverse lookup;
Custom shortcut phrases quickly on the screen - I heard a lot of people with special needs for this function,So I set a lot of macro commands so that you free combination;
Cattle + cow + ox = Ben - difficult to play like a combination of direct word;
Emoji intelligent candidate - I guess,You want to say this;
Full equipment configuration synchronization! --iPad with iPhone Configuration,Import code table and quick phrase can be automatically synchronized via iCloud。Oh,Keyboard height will not be synchronized;
Import custom code table - stroke、Zheng code,All programs can theoretically enter the code table expression pocketed input methods are compatible,In particular, there are two kinds of four yards on screen program!
Sentence input - based word sentence input;
Key guidance point may be custom scribe --26 English letters can customize,same,Macro commands and ultimately,;
Use "orq"、"Oxq"、"Osj" to enter the date, respectively,、Day and time - no "o",Direct input "sj" and the like can also be friends;
Import address book entries - and various other input methods is,You can see all of what was exported,You can also edit one by one;
Dvorak keyboard support! --Your Dream,It is to guard me!
Jane lost out complicated - in short,Now you can use the input method and pocketed more people exchange;
Word copy - heard that regressed "big bang" it? Now off the grid input method,iOS platform has a similar function;
Text replacement - you set the system "replace text" content,Off the grid on the same input method to take effect;
inLine,In this - display your input in the input box Buffer;
Import any Home code table - a powerful custom stopwatch,perfect、stable;
Introducing any secondary code code table - is now independent secondary codes can be arranged,Larry hanging Wubi? no problem!
Any key mapping - Build Larry? can not stop;
Import code table Wifi - code table management more convenient,nice、More convenient;
Other imported by sharing app code table - there is no computer can accomplish only pocketed input of all custom configuration using a mobile phone!
Thesaurus mix,This time,Do not select - code table、Secondary code、Thesaurus mixed query,Full content and more、By car more stable。
Universal key - plan spaces on the main stopwatch users can fuzzy match it!
Cloud log - share a key code table,Introducing a key code table of other users sharing;
Smart Tip - Enter the domain name is no longer a headache;
Controlled user dictionary - word frequency coinage want? Who says Larry to die! Want more privacy? A key to close no problem!
Keyboard capitalization - keyboard interface lowercase or uppercase letters? This is a philosophical question,But you can have;
Buffer spelling - some semi-detached keyboard display,Some keyboard display jianpin,So you can set off the grid display style input method you need。
Word Association - probably the only matter sorted cursor to go the predictive input method, right。
Reverse dot-dash - you tell me,Who else can you allow such a mess?
Keyboard freely adjust font weight;
Fixed black skin - the same dark skin and full system boot!
Sound fuzzy sound support;
Press CRLF;
iOS and Mac consistent input experience;
Z traditional five-stroke mode global independent!
No engraved pattern - it's time to install the wave force ~
Vibrate on keypress - nostalgic feel,More than ever!
Auxiliary code Tip - Use auxiliary code has never been so at ease;
Space selected word - familiar operating,Now no need to change;
"Jane lost a fan" from the OpenCC;
About one-handed keyboard Xpress;
Buffer display up to three random switching;
Colorful keyboard - you have not seen [RGB] cell phone!